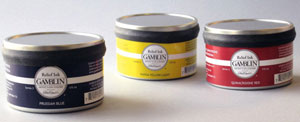 Archival, lightfast pigments
Pure burnt plate linseed oil base
No fillers, additives or modifiers
Artist quality
High pigment load
Intense colors, brilliant undertones
Ready to use out of the can with no modification
For woodcut, engraving, linocut and monotype
Gamblin Relief Ink gives relief printmakers the professional, archival quality ink they have been searching for. Print with confidence that your work will last for decades, even centuries.
These inks feel buttery smooth under the ink knife. In fact you may be tempted to stiffen it, but try it first without modification. The ink is formulated to spread out smoothly and evenly on the block while being stiff enough to print very fine details.
Ultramarine Blue is an exception. This pigment tends to create very stiff ink and with the high pigment load, the ink may not roll out easily. Just a few drops of Gamblin #000 Burnt Plate Oil will loosen it and solve the problem.
The high pigment load translates to complete coverage from a thin layer of ink, eliminating over-inked, blurry prints.
Gamblin Relief Inks print with intensity, purity of color and brilliant undertones. The pigments used are bright and translucent, making them ideal for overprinting. All of the pigments used are lightfast and will not change or fade over time. Because of their very high pigment load Gamblin Relief Inks are a much better value than lower priced inks filled with extenders.
A small amount of dryer has been added to the ink. Depending on the paper, the amount of ink used and environmental conditions, total drying time takes two to six days.
Magnesium Carbonate can be added to the ink to give it more body, which is helpful if you are making viscosity monotypes.
Because Gamblin Relief Inks do not contain fillers or modifiers they are less tacky than many inks so when it comes to cleaning up, most of the ink is easily wiped away with a dry cloth. Any residue can be removed with a small amount of Gamsol Odorless Mineral Spirits.
The palette was carefully constructed by McClain's and Gamblin Artists Colors to produce maximum color mixing ability.
Click here for a .pdf of color mixing tips and color swatches.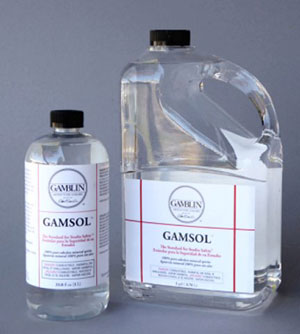 Clean up with Gamsol
If you use mineral spirits, use the safest kind. Gamsol is highly purified 100% odorless mineral spirits, distilled at high temperatures and purified of all aromatic components.
Some artists think odorless mineral spirits are more toxic because you cannot smell them. This is not true. Odorless mineral spirits are less toxic because the harmful aromatic solvents have been removed. By using odorless mineral spirits, you cut down on your exposure to harmful solvent vapors significantly.
Gamsol evaporates 100% and leaves no sticky residue. It has a much higher flash point than turpentine or hardware store mineral spirits and evaporates much more slowly than other solvents which means you are breathing in much less of it while you are working.
While used rags should still be stored in metal containers, Gamsol has a much higher flash point than turpentine or hardware store mineral spirits so it is safer in the studio. In fact, with a flash point of 145°F (63°C) Gamsol is safe to ship by air as well as UPS Ground with no restrictions and no extra shipping charges.

About Gamblin Artists Colors
Gamblin Artists Colors in Portland, Oregon is world famous for their professional quality oil colors.
Since 1980, Robert Gamblin has been formulating traditional, pure, linseed oil artists colors for artists and conservators. He designed new production machinery that allows the incorporation of an extraordinary amount of pigment into the base, improving texture and creating luscious, intense, rich artist's colors. This same skill and attention to quality was applied to creating Gamblin Etching Inks and now Gamblin Relief Inks.
"Archival" should be Robert Gamblin's middle name. For him, permanence is measured in centuries and every product he develops must meet that goal. Nothing has been added that could possibly compromise the archival quality of this ink.
McClain's worked closely with Robert Gamblin and Gamblin Artists Colors in developing Gamblin Relief Ink. We are very pleased and excited to offer you this classic relief ink.