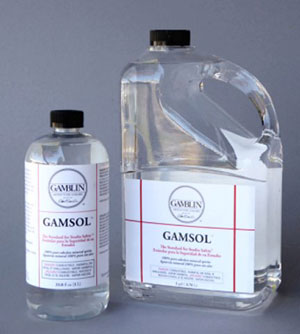 Gamsol
If you use mineral spirits, use the safest kind.
Gamsol is 100% pure, odorless mineral spirits. It is distilled at high temperatures to purify it of all aromatic components. It evaporates 100% and leaves no sticky residue.
Most solvents available to artists come from the industrial paint industry where solvent power and cheapness is prized. Gamsol is special: it is made for products and processes that come into more intimate contact with the body such as cosmetics, hand cleaners, and cleaning food service equipment.
Some artists think odorless mineral spirits are more toxic because they cannot smell them but this is not true. While Gamsol is a petroleum distillate, all the aromatic solvents have been refined out of it and less than .005% remain. Aromatic solvents are the most harmful types of petroleum solvents. By using odorless mineral spirits, you cut down on your exposure to harmful solvent vapors.
Gamsol has a much higher flash point than turpentine, hardware store mineral spirits or even other odorless mineral spirits; so much so that it is safe to ship by UPS without any additional fees or restrictions.
NOTE THE FOLLOWING SHIPPING RESTRICTIONS: Ships only by UPS Ground to the lower contiguous 48 states of the United States. No UPS Air shipping is allowed. Due to Postal Service shipping restrictions regarding hazardous liquids, Gamsol cannot be shipped through the U.S. Postal Service, shipped overseas or shipped to freight forwarders.
TO CUSTOMERS IN CALIFORNIA, CONNECTICUT, DELAWARE, MARYLAND, NEW HAMPSHIRE, UTAH, COLORADO, AND RHODE ISLAND: The California Air Resources Board, which regulates the VOC (Volatile Organic Compounds) content of certain consumer products including artist's solvent and thinners, exempt Gamsol but the exemption is limited to containers no larger than 34 ounces. Seven other states, including Connecticut, Delaware, Maryland, New Hampshire, Utah, Colorado, and Rhode Island have adopted the rules based on the California regulations. For this reason, only 32oz (1 quart) containers of Gamsol can be shipped to these six states and gallon containers cannot.
Gamsol