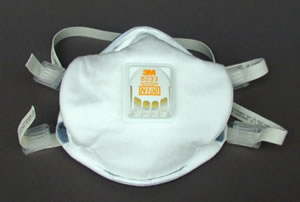 3M™ Particulate Respirator, 8233
If you are making your own inks from dry pigments, wear one of these masks. Made for those looking for the highest filtration in a maintenance free respirator, this mask provides at least 99.97% filtration efficiency against dry particles and liquid aerosols that do not contain oil when used according to directions.
It features 3M's Cool Flow™ Exhalation Valve, a comfortable foam face seal and two adjustable straps. Latex free.
These masks are not able to filter out viruses and will not protect you from COVID-19.