Cranfield Traditional Metallic Relief Ink
Metallic inks are traditional linseed oil-based inks. Traditional inks must be cleaned up with Gamsol, mineral oil or vegetable oil, not soap and water. The manufacturer was unable to make a safe wash version of this ink because the inorganic metallic platelets in the ink do not behave the way pigments do. Like all glitter products, they are very difficult to clean up in soap and water so traditional methods of clean up are necessary.
Adding modifiers such as Extender, Magnesium Carbonate, Oil (Thinner), Burnt Plate Oil or Wax Drier is not recommended with metallic inks because these modifiers tend to make the ink look dull and lacking in luster. Also metallic inks are very fast drying on their own so the need to add drier is very unlikely. You can add small amounts of Tack Reducer if necessary. Tack Reducer is a transparent gel made from a very light drying oil. Adding small amounts to the ink will reduce tack so the ink spreads out more readily and evenly.
Tip: printing a similar pigmented color first, then overprinting with the metallic ink, will make the metallic ink pop more.
This ink is sold by weight rather than volume so the can size varies.
The colors shown below may be affected by your monitor settings and are intended to be used as a guide only.
Cranfield Traditional Metallic Relief Ink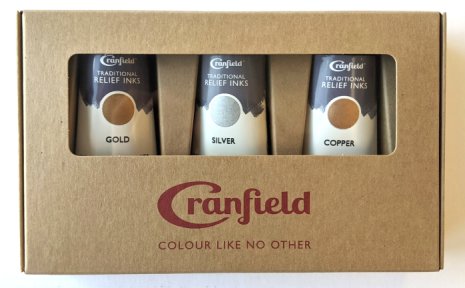 Cranfield Traditional Metallic Relief Ink Set
5% Discount
If bought individually: $51.85
You might also consider