Cranfield Traditional Metallic Relief Ink
Metallic inks are traditional linseed oil-based inks. Traditional inks must be cleaned up with Gamsol, mineral oil or vegetable oil, not soap and water. The manufacturer was unable to make a safe wash version of this ink because the inorganic metallic platelets in the ink do not behave the way pigments do. Like all glitter products, they are very difficult to clean up in soap and water so traditional methods of clean up are necessary.
Depending on the technique, temperature, humidity, paper and type of plate, all inks may need slight adjustments to print perfectly. Add small amounts of these modifiers into the ink and mix well before adding more.
To extend the ink or make it more transparent, add Caligo Safe Wash Relief Ink Extender. To thin the ink so it spreads easily, add Caligo Safe Wash Oil (Thinner) or #000 Burnt Plate Oil. Caligo Safe Wash Oil contains the same emulsifier that allows for soap and water clean up. If you use #000 Burnt Plate Oil, use as little as possible or you may lose the ability to clean up with soap and water. Add any thinner sparingly since details may be lost if the ink becomes too fluid. Tack Reducer is a transparent gel made from a very light drying oil. Adding small amounts to the ink will reduce tack so the ink spreads out more readily and evenly. Gamblin Magnesium Carbonate stiffens the ink and reduces the ink's gloss level. To speed up drying time, add Cranfield Wax Drier. Mix up to 3% of the Wax Drier paste into the ink on the slab with an ink knife. This modifier will reduce drying time and improve mark and rub resistance of the dried print surface. Test for suitability before using on a large scale, multi-color or reduction print.
Tip: printing a similar pigmented color first, then overprinting with the metallic ink, will make the metallic ink pop more.
This ink is sold by weight rather than volume so the can size varies.
The colors shown below may be affected by your monitor settings and are intended to be used as a guide only.
Cranfield Traditional Metallic Relief Ink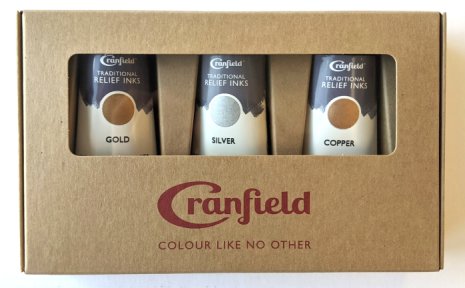 Cranfield Traditional Metallic Relief Ink Set
You might also consider