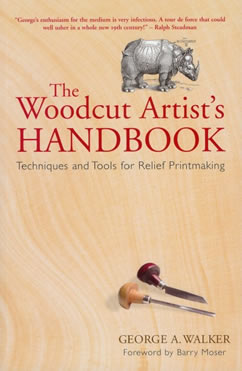 The Woodcut Artist's Handbook
by George A. Walker
This handbook covers western-style woodcut, linocut and wood engraving techniques. Chapters include information on choosing the wood block, tools, paper and ink; woodcut and wood engraving techniques; and lots of great tips (this is where Mr. Walker's long experience as an printmaker really shines). Illustrated with detailed line drawings and full-color block prints plus details about the techniques and tools used. An indispensable guide for practicing these timeless art forms.
This second edition includes step-by-step illustrated guides to making wood engravings and linocuts.
168pp, soft cover, 9.5" x 6.25"
Shipping weight: 1.25 lb