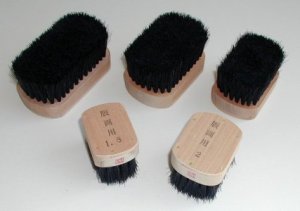 Maru Bake
Round Cornered Brush
In front, left to right: B4211 (1.6" x 2.2"), B4212 (1.9" x 2.4")
In back, left to right: B4215 (2.4" x 4.2"), B4214 (2.4" x 3.6"), B4213 (2" x 3")
These traditional Japanese printmaking brushes are beautifully crafted from black horse tail hair set into a cedar wood handle.
The bristles of these brushes need to be shaped and split by singeing and then rubbing them on a rough surface (see Dragon Skin). Complete instructions on splitting the bristles can be found by clicking here.
Be sure to soak the brush up to the handle in clear water for about 10 minutes before each use to soften the bristles slightly and help prevent shedding. After use, wash thoroughly with a mild soap and place the brush bristles down in a well ventilated area, away from heat sources, to dry. Cedar tends to split if it dries out too quickly. Professional printmakers in Japan wait six months to a year for the wood to cure before using a new brush; others wrap the handle with electrical tape to help prevent cracks from forming.
Shipping weight: 0.1 lb each
You might also consider