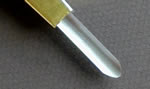 Tama To (circle carving knife)
The blade on this tool has been shaped specifically for cutting small circles. This is very difficult to do with a knife or u-gouge because the blade tends to wander or the backs of the tools tend to press on and deform the wood. With a little practice, the Tama To makes clean, smooth sided circles.
Shipping weight: 0.1 lb each
*Currently out of stock. More should arrive in January/February, 2023. If you order one of these tools, it will be placed on backorder and shipped as soon as possible. You will not be charged until we ship it and there is no additional shipping charged on backorders shipped within the U.S. Thank you for your patience.
You might also consider