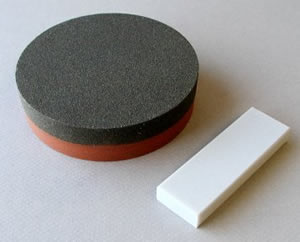 Oil Stones
Tools can be sharpened on either water or oil stones. Most people prefer water stones because they are softer and will put an edge on a blade faster than oil stones. We recommend water stones for sharpening Japanese woodblock tools.
However compared to woodblock tools, the faces of engraving tools are small. They can be sharpened on water stones, but they will wear deep grooves into them quickly and the stones will have to be replaced more frequently. For this reason, most engravers use the harder oil stones to sharpen these tools.
The man-made round India Combination Stone has a coarse 150 grit side and a fine 400 grit side. The coarse side is great for repairs and the fine side will put a very sharp edge back on the tool.
To maintain the edge or give the tool face a polished, mirror finish, use the hard 1000+ grit Arkansas Natural Stone, quarried in the Ozarks.
Note: Sharpening Stone Oil can only be shipped by UPS Ground within the contiguous United States. No UPS Air shipping is allowed. Due to Postal Service shipping restrictions regarding hazardous liquids, Sharpening Stone Oil cannot be shipped through the U.S. Postal Service, shipped overseas or shipped to freight forwarders.
Oil Stones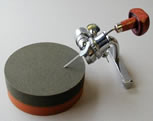 Use a Crocker Sharpener to hold engraving tools
steady on the stone